Thursday 23rd August 2012
HOW TO START A MOTOR SHOW
Enterprising Wilmslow car nut sees potential for local motor show ... and makes it happen!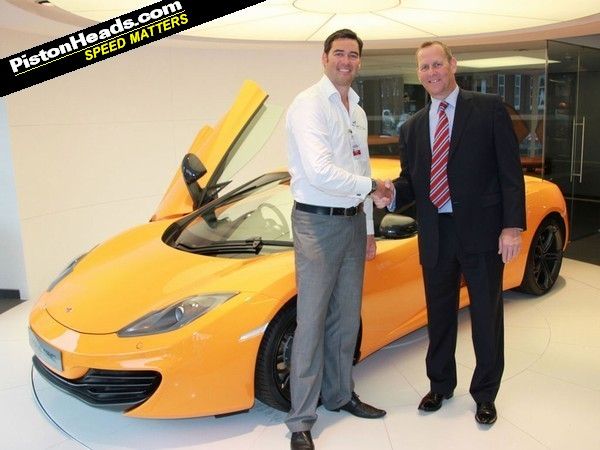 Geneva, New York, Paris ... Wilmslow. The Cheshire town isn't generally associated with the motor shows and salons of the world, but a local print shop owner has other ideas and is planning a luxury and supercar show in the town centre for next month.
Steve Kennedy was taking a look at the town centre at the end of a market day when he was struck by an idea. "Back in February I took a good long look at our town's pedestrianised street, Grove Street, and realised ... cars would work, literally a linear open air motor show," he says.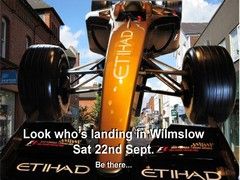 F1 display car made available for show
Cheshire is full of supercars and footballers, after all - why not put the various local high-end car dealers to good use? The non-profit show's objective would be to generate footfall into the town, get people into local shops and cafes and give local car dealers a combined showcase for their cars. Mary Portas would be proud.
Kennedy put together a small project team comprising himself and a few friends involved in Wilmslow's market and local businesses.
"I spent a couple of months working on it, got our first sponsor on board and realised this was possible," he says.
With the Etihad airline recruited as a title sponsor and an offer of its F1 showcar as a centrepiece things were falling into place. Following some careful maths, funding has been taken care of and the inaugural Wilmslow Motor Show will take place on Saturday September 22.
Around 30 cars will be positioned along and around Grove Street and the day before 20 supercar owners will attend a track day and, with luck, all 20 will make it unscathed to the show too. A Lamborghini Aventador and Aston Martin have been made available for passenger rides around the town for charity. Marques to be included in the show include Aston Martin, Lamborghini, Rolls Royce, McLaren and Ferrari/Maserati.
Kennedy tells us that if this year is received well there are plans to make it an annual event. Whilst Wilmslow is unlikely to become the new Geneva, it hopefully goes to show that a few enthusiastic people saying "why not...?" can grow into something significant.