Friday 24th August 2012
SLS BLACK SERIES SHEDS MORE CAMOUFLAGE
Mercedes' ruded up SLS loses more of its disguise and rattles a few leaves in the Eifel forests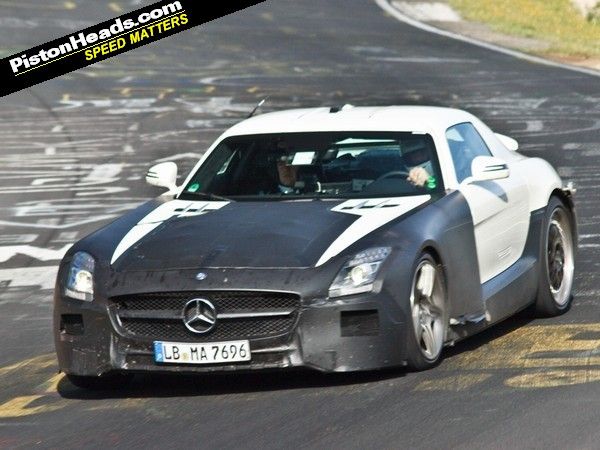 These shots show the latest
AMG SLS Black Series test mule
racking up the miles on the Nordschleife yesterday. The newest disguise is obviously stuck on top of a pearlescent white shell, suggesting the finished product may just lay underneath these ugly black panels.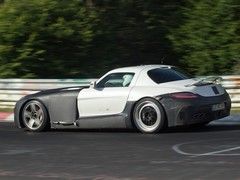 Quad tailpipes visible on test mule
Apart from the obviously inflated arches there are some interesting additions. The exhausts now exit through four individual tail pipes, instead of just two. It's a change that could be purely cosmetic, but we suspect may hint at a slightly different exhaust setup catering more to top-end power than mid-range grunt.
At the front of the car the bodywork between the classic grille and the lower air-scoops is now also an air intake, providing three gulps of cold air over the standard model's two - another hint of increased power or need for additional cooling. Big flat panels behind the front wheel also cover up some unknown change to the signature scalloped strakes.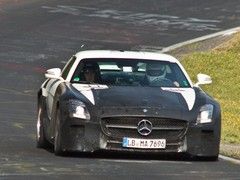 Expect well over 600hp
The new AMG is expected to make between 600 and 650hp, a hefty increase over the standard car's already impressive 571hp. The sound is as epic as you'd hope, with shades of the GT3 cars that race here at the N24. Weight will be harder to lose though, with maybe as little as 50kg being cut.
What could make a nice difference is the double-clutch 'box being turned up a notch or two but the proof will be in the driving. For now enjoy the pics and speculation of what a faster, more focused SLS will be like!