Tuesday 28th August 2012
HYUNDAI VELOSTER TURBO S: £21,995
Quirky hot hatch/coupe confirms pricing but will it be any good?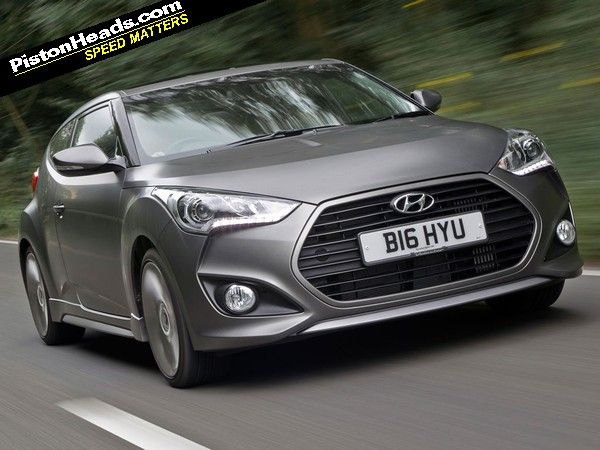 We've touched on the
Hyundai Veloster
Turbo a couple of times in recent months but finally pricing has been confirmed with a headline entry level figure of £21,995 for the Turbo SE.
Power has been confirmed at 186hp, the 1.6-litre, twin-scroll turbo engine apparently optimised for European tastes with a lower peak power but gutsier mid-range torque delivery. Which would appear to be code for attempting to hit CO2 and mpg targets at the apparent cost of a second off the 0-62mph time - a claimed 8.4 seconds on the UK/Euro version.
Now, you can claim the relevance of such bald performance stats but, beefier torque delivery or not, it's clear the Veloster Turbo we get is significantly slower than the one you can buy over the pond. Oh, but apparently you get the 195lb ft peak torque 250rpm sooner, at 1,500rpm rather than the heady 1,750rpm our American cousins need to wring their Velosters out to. We do get firmer dampers too, apparently.
And it does look cool and most certainly a break from the Mini masses that might otherwise tempt you at this price point. Spookily (OK, not at all spookily...) the Mini boasts a similar 184hp in Cooper S form, again from a 1.6 turbo. A Clubman with similarly imbalanced door configuration to the 2+1 Veloster costs from £19,160 and is quicker and cleverer with CO2 figures at 137g/km against the Hyundai's 157g/km. It's a tough fight against the Scirocco too, the 160hp 1.4 TSI down on power (and doors!) but £500 cheaper and added badge kudos, if such things matter.
The Veloster fights back with generous equipment, including touchscreen nav and leather seats, embossed 'Turbo' in an 80s-tastic throwback to when such things were novelty enough to shout about.
Does that leave Hyundai headroom to 'retune' again and bump the power back up? The official line is no. For now.