Monday 3rd September 2012
174MPH SPEED PACK FOR JAG XFR
Raised limiter just the job for baiting AMGs and Ms on the Autobahn - get that Eurotunnel booked!
The
Jaguar XFR
is now available with a Speed Pack option, as has been previously offered on the larger
XJ Super Sport
. Comprising subtle cosmetic tweaks and a raised speed limiter, it should maintain interest in Jaguar's
M5
rival until the XFR-S is revealed, expected before the end of this year.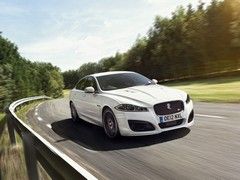 Subtle visual tweaks but more gears and mph
Previewed at the
Moscow motor show
last week, the Speed Pack is now capable of 174mph instead of the usual 155mph, and features revised engine calibration (though power remains at 510hp) to accommodate the extra speed potential. Visually, the Speed Pack can be identified over a standard XFR by a small boot spoiler and a new front splitter. These very minor changes should allow the XFR-S to boast even greater visual aggression, as shown in the transformation from XKR to XKR-S.
As well as the raised speed limiter, the XFR Speed Pack also benefits from the addition of the eight-speed auto rolling out across the JLR product range and stop-start. Jaguar claims this improves fuel consumption by 11 per cent and drops emissions by 8 per cent. For the record, this means 25mpg and 269g/km, if that's what your supersaloon purchases are based upon...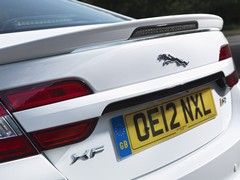 'Headroom' for XFR-S has been maintained
Jaguar is charging £2,750 for the Speed Pack option, so a standard XFR with that box ticked will cost £68,100. This still makes the Speed Pack XFR less than an M5 or Mercedes
E63 AMG
, leaving headroom for the 550hp XFR-S to rival them on price and outright power when it arrives.