Wednesday 5th September 2012
NEW VW GOLF
Meet the new Golf, much like the old Golf...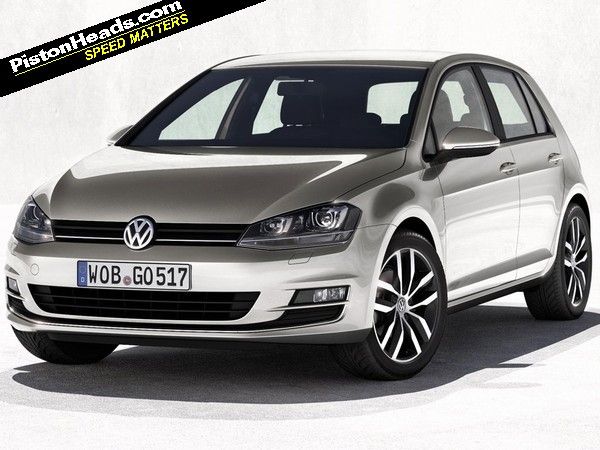 So here it is, the seventh generation of the Volkswagen Golf. No, really, it is... Longer, wider, lower and lighter than the car it replaces, it is pretty much guaranteed to allow VW's seemingly inexorable rise to the top of global car production continue.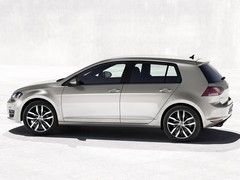 Longer and more spacious, but lighter too
Unveiled in Berlin last night ahead of a full public debut at the Paris Motor Show later this month, even VW concedes that the styling hardly breaks the mould, Walter de Silva quoted as saying "One of the keys to the Golf's success lies in its continuity." Which is corporate speak for 'that was an easy day in the office.'
More significant changes are afoot under the skin. The Mk VII Golf, like almost every new and upcoming mid-size VAG product, is underpinned by the MQB architecture. This contributes to a weight saving for the Mk VII Golf of up to 100kg over the previous model; whilst this predictably delivers efficiency gains, it should also add some agility to all Golf models, especially the GTI and R versions when they arrive.
VW is keen to press the safety features offered on the Golf Mk VII. These include Adaptive Cruise Control, a Driver Alert System to detect tiredness and City Emergency Braking to prevent accidents in traffic. Most notably amongst all this equipment is Front Safe. According to VW, this system can bring the car to a complete halt at speeds of up to 150km/h (93mph). Front Safe is a device most cars already feature of course, most of us referring to it as a 'brake pedal', but for those who struggle with such complex systems it's nice to know this is now an automated process too.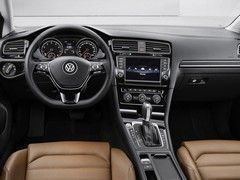 Driver-angled dashboard standard on all models
Two petrol and two diesel engines will be available initially. The smallest of these, a 1.2-litre TSI, delivers 85hp and 57.6mpg. The other petrol option, a 1.4-litre TSI, which has already be seen in the
Polo Blue GT
, features cylinder deactivation tech, 140hp and achieves 58.9mpg. The 1.6-litre diesel delivers 105hp, 74.3mpg and 99g/km, so expect it to be popular in Britain. The 2.0-litre variant gets 150hp with only small penalties in terms of efficiency (68.9mpg and 106g/km).
Orders will be taken for the Golf Mk VII from October, with the first cars arriving in Britain in January.