Thursday 6th September 2012
MINI JCW GP FULL DETAILS
Limited-edition GP is a very serious Mini, but a very expensive one too...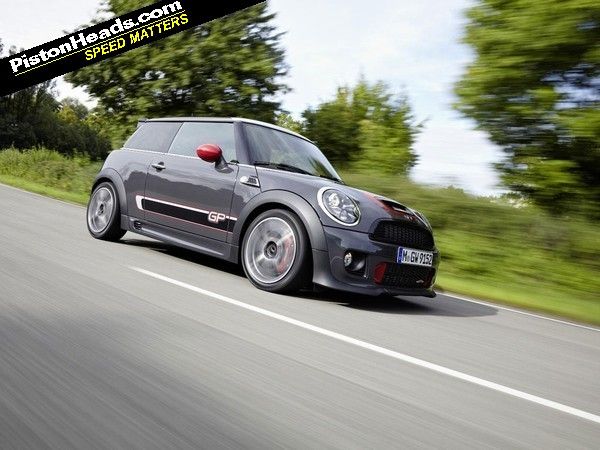 The second-generation of Mini John Cooper Works GP will debut at the Paris Motor Show before entering 2000-unit limited production soon after. Expect it in Britain early next year.
So what will those buyers get? Well, the 1.6-litre twin-scroll turbocharged engine from the regular Cooper S has been treated to an aluminium block, reinforced pistons and a lighter crank. It produces the same 218hp as the last JCW GP. When combined with 192lb ft of torque (an overboosted 207 is also there for short periods) and a 1,160kg kerb weight, the JCW GP will hit 0-62mph in 6.3 seconds and run to 150mph. A 'GP mode' has been added to the stability control, decoupling it from the traction control. An LSD-aping electronic differential remains to transmit the engine's power to the road.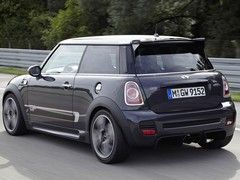 Spolier now functional; vents still just for show
So far, so encouraging. The suspension has also been subjected to quite an overhaul, the JCW GP becoming the first Mini to have an adjustable coilover setup. It allows the ride height to be altered by 20mm. Moreover, the front dampers are mounted upside down, which is said to increase both lateral and longitudinal stiffness. And Mini hasn't stopped there; increased front camber and new tyres for the JCW GP should make for an extremely capable and feisty Mini.
Braking performance is provided by 330mm (front) and 280mm (rear) brakes. They lurk beneath 17-inch, four-spoke alloy wheels unique to the GP and near-identical to those of the last car. These comprehensive performance modifications have allowed a JCW GP to lap the Nordschleife in 8min 23seconds, 18 seconds faster than the last GP. Not quite a Renaultsport Megane then, but very far from a disappointing time.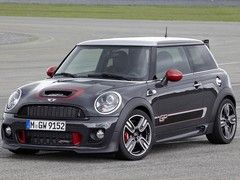 Red trinkets unfortunately standard with JCW GP
Mini has never been one for styling subtlety, a theme exemplified in the JCW GP. Like its predecessor, Thunder Grey is your only paint option and the red mirrors, scoop surround and front intakes are mandatory. Inside, 'GP' logos adorn the sills and glovebox . Again as previously, the JCW GP has only two seats. A strut brace can be found where the rear pews were.
A Mini with adjustable suspension, bigger brakes, new engine components, an 8:23 Nordschleife time ... it's bound to be expensive, right? Well yeah, actually, it is. The Mini JCW GP will cost £28,790. Though not much in a Mini universe where a £29k JCW Coupe can be found, it seems costly when compared to other hot hatches; you want a limited-edition rival? A DS3 Racing was £23,100. Track focused mechanical changes more your thing? Take a look at the £22K Corsa VXR Nurburgring. But if you really want to be 'ring daddy, though, it should be remembered the FWD record-holding Renaultsport Megane 265 is £26,040. And don't forget the recently reduced Subrau Impreza STI is now £27k. Still, you pay your money...