Friday 7th September 2012
YOU KNOW YOU WANT TO: DONINGTON'S BRIDGE
The Dunlop bridge was a Donington landmark for years - and is now for sale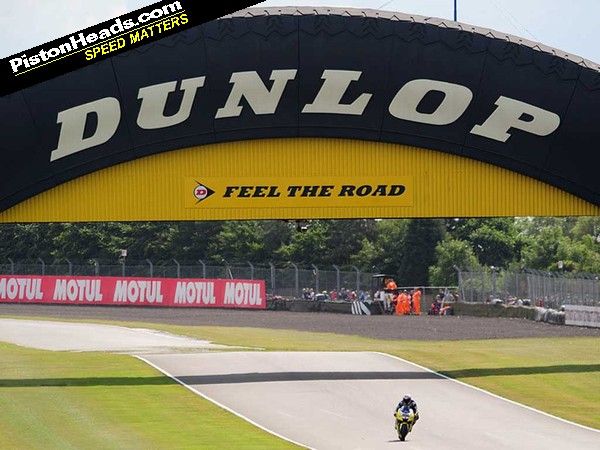 Auctions always throw up some weird and wonderful lots. The proliferation of 'barn-find' cars in auction houses indicates there's a buyer for anything if you look hard enough.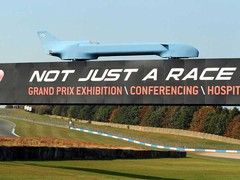 Donington landmarks up for grabs...
So how about a bid on some true racing memorabilia? At the Goodwood Revival next Saturday (September 15), Bonham's will auction off the
Donington
Dunlop Bridge in aid of Hope Against Cancer.
That's right, the iconic Dunlop Bridge, a landmark of the Derbyshire circuit since 1977, will be sold to the highest bidder. The lot comprises fibreglass sections of the bridge, the side supports and the Dunlop letters. There is no metal structure as that was sold for scrap in 2009 when the ill-fated remodelling of Donington began. Still, there's nothing stopping the successful bidder making another metal structure and building the bridge up again...
And that isn't all. Other features of Donington will also be sold off for charity. A nine-metre wind tunnel model of Project Blue Star, a land speed record car from the 1970s, will feature in the auction. As well as this, the Pirelli-branded clock that was until recently located on the Old Hairpin bridge will be open to bids. The final piece of the Donington landscape to be sold will be the advertising signs that used to hang below the Dunlop Bridge.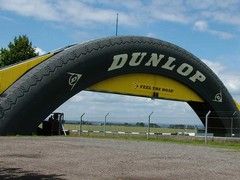 This could take some explaining back home...
Christopher Tate, Managing Director at Donington Park, believes the "time has come" and that the circuit needs "to make space for new developments in the paddock area".
So not only is the money going to a good cause, the auction is benefitting one of Britain's best circuits and you could get yourself a piece of motorsport heritage. But a word of warning: a crane is needed should you fancy the land speed record car...
---
DUNLOP FOOTBRIDGE
Price: Up for auction...
Why you should: An iconic motorsport landmark you could put in your back garden!
Why you shouldn't: Doing the above might not go down so well...