Monday 10th September 2012
BMW 760LI 25 YEARS EDITION
It's party time in Bavaria, though in a suitably restrained manner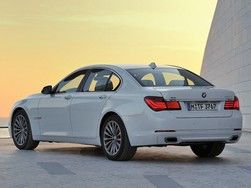 No pics of special edition yet, enjoy this instead
Great minds clearly think alike. Just as PH chose to celebrate BMW V12s with
this 850i
, so BMW is congratulating itself on a quarter-century of putting V12s in its production cars.
It has chosen to mark this anniversary with a limited edition of its current 760Li flagship, called the 25 Years Edition. As a celebration of V12s in its production cars (beginning with the original E32 7 Series), wouldn't it be right to have some engine tweaks for this 760Li? Apparently not, according to BMW, with this car merely a styling exercise.
Having said that, with 535hp and 550lb ft of torque, the 6.0-litre powerplant wasn't exactly wanting for performance. The cosmetic tweaks for the 25 Years Edition include new badges, 'champagne piping' (we kid you not) for the upholstery, 20-inch wheels from the BMW Individual range and a rear-seat entertainment package with its own iDrive.
Perhaps understandably given the British fondness for luxury diesels, the 760Li 25 Years Edition will only be available in America. Moreover, just 15 will be made. It is available to order now at $159,695 (just about £100,000), with the 15 buyers likely to receive their cars in early 2013.
Of course, if you wish to celebrate BMW's milestone but don't have the requisite £100k for a 25 Years Edition, how about perusing the PH Classifieds for your own 12-cylinder saloon? No, they aren't common, but £16,000 secures you a very appealing previous-generation 760Li and an E38 750iL can be yours for under £5k