Tuesday 11th September 2012
WHAT NEXT FOR ALEX ZANARDI?
After success at the Paralympics, is the Indy 500 his next challenge?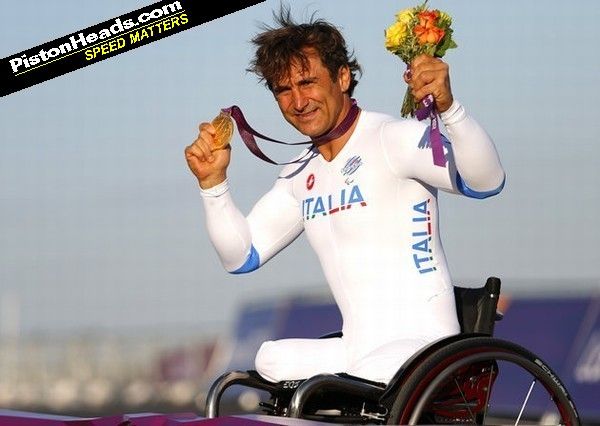 Could two-times Paralympic hand cycling gold medal winner Alex Zanardiís next challenge be to compete at the Indy 500? If it were anyone else, you may consider it fanciful. But this is Alex Zanardi, someone who genuinely deserves hero status.
Zanardi, remember, lost both his legs in a truly sickening crash at Germanyís Lausitzring in 2001. He also lost two-thirds of his blood in the accident. He was given the last rites in the helicopter that took him to hospital, surgeons simply didnít believe he could survive.
But he did. And he went on to walk again using prosthetic limbs. He drove a racing car again, completing the laps he had left to run in a modified Champ car. HE raced again, in the World Touring Car Championship. And he became a race winner again, triumphing several times in WTCC. Then he decided to become an athlete, on hand cycles. Last year, he won the New York City Marathon. Then he qualified for London 2012.
Now, heís won two gold medals in Paralympic hand cycling (plus a silver medal in the Italian time trial relay). Fittingly, the 40-mile road race, in which he averaged 20 miles an hour, was held at Brands Hatch: heís since called it the race of his life.
So, what next for the remarkable Zanardi, who also has two CART titles and a twice-run F1 career driving for Lotus and Williams to his name? Well, the latest speculation is that he could indeed enter one of the biggest races in the world Ė the Indy 500.
It started out as banter between Zanardi, former CART teammate Jimmy Vasser and team owner Chip Ganassi. If I win gold, asked Zanardi, will you fix me a drive in the Indy 500? Weíll talk, answered Vasser, who apparently didnít take it too seriouslyÖ but is now.
Could it happen, though? Well, in completing the laps at Lausitzring, Zanardiís proven he can handle a single-seater. In winning races in the WTCC, heís proven heís fast. And in winning an Olympic gold twice, heís proven he is one of the fittest guys around. Ovals donít demand the same sort of inputs as road racing either, and with a suitably modified car, safety concerns could be allayed too.
It sounds unbelievable. But everything Zanardi has done since that sickening day in 2001 has been. Why not Indy 500 now?