Tuesday 11th September 2012
ANOTHER PAGANI ZONDA!
764 Passione will be the last Zonda. Definitely. Probably. Maybe?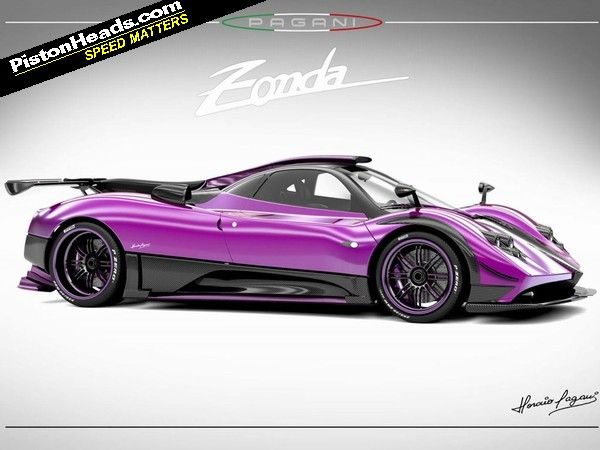 Horacio Pagani is a bit like your favourite grandparent; even when all the treats are supposedly gone, they continue to appear, as if by magic, until you're actually a bit sick of treats.
Rumours have surfaced that Pagani are working on the final ever Zonda (which the Cinque, 760 RS,Tricolore and the one made for Lewis Hamilton definitely, categorically were not, of course). Seemingly 7.3-litre AMG V12s continue to be found, despite not being produced anymore, and Pagani can incorporate the Zonda back into their build process despite Huayra production being underway.
Like previous extremely limited production Zondas, expect this car (to be called the 764 Passione) to be suitably, ahem, unique. Rumours suggest it will have pink brake calipers, pink script etched onto the valve covers and pink bodywork. Unique indeed. Surprisingly enough, no official pictures have yet emerged, the image supplied being what it could look like...
Mechanically, the Zonda 764 Passione is much more desirable. It will be based on the Zonda F chassis but with the engine upgrades of the 760 RS (effectively a road-going Zonda R) and mated to a manual gearbox. We can only guess at the price, but seeing as Lewis Hamilton is believed to have paid £1.6million for his car, a figure in that area is likely.
So, 760hp should make for a fitting swansong for the Zonda given it began life with 385, but hasn't that been said before?