Tuesday 11th September 2012
TIME FOR TEA? RALLYING WITH ROBERT KUBICA
On-board footage from this weekend's victorious motorsport return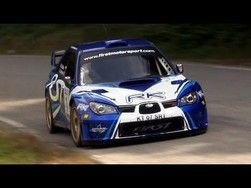 If
PH Heroes
covered people and not just cars, Robert Kubica would be a dead-cert for inclusion.
As you may have read yesterday, Kubica won the Rallye Ronde di Lana Gomitolo over the weekend, his first competitive driving event since crashing in February 2011. His margin of victory was more than a minute, despite the rally being only four stages long. It was a fairly unequivocal staement of intent by Kubica, showing that his return to the highest forms of motorsport is progressing well.
So today's Time for Tea? celebrates the Pole's victory through an onboard clip from Special Stage 3 of the weekend's event. Driving a Subaru Impreza WRC, the clip shows Kubica scything through the stage; hammering only inches past delpaidated Italian houses, cutting verges and drifting through hairpins. Of course, this is exactly the kind of commitment we expect from a rally driver but this was Kubica's first competitive driving in 19 months after a huge crash in a similar rally. Driving like this takes real bottle ordinarily; given the context, it is a remarkable feat of bravery.
Kubica plans to make his F1 return in 2014. He is out of contract with Lotus-Renault after missing all of 2011 but this video shows he has retained all of his desire and talent, so expect some clamouring for his signature when negotiations open.
Thanks to PHer Luke (@zeduffman) for making us aware of this video via twitter