Wednesday 12th September 2012
MERCEDES-BENZ W124 300 TE 4MATIC ESTATE: SPOTTED
Chris Harris gets misty eyed over an apparently box fresh 80s Merc Estate.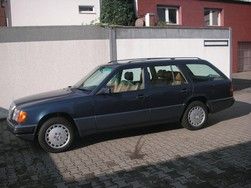 Now
this
, if it checks out, is a little bit special.
A delivery miles pre-facelift, 1988 W124 E300 4Matic Estate.
There's a little bit of me – the profoundly unadventurous portion – that wonders why any car manufacturer which can claim to have built an iconic model in the past 40 years doesn't just constantly hark-back to that design. It has hardly done Porsche much harm, has it?
I wrote a column about this years ago: Peugeot should just do a modern, crash-resistant 205, that way people like me would stop crapping on about the old days and it would probably sell more cars.
Likewise, perhaps Mercedes should just re-imagine the W124, because the world just seems to love the things – me included.
I've often wondered how a new W124 would fare in a group test of modern machines – no doubt it would be toasted in every objective area, but I bet it would feel like a lower-volume, more special machine than anything from 2012. Driving this might answer that question.
Of course what you want to ask the chap selling this one is simply: "How?"
And, "Where did it come from?" And a dozen other questions, including "And why have you got another near-zero-miles W124 for sale too?"
No doubt it'll need anything rubber in the engine bay and attached to an alloy wheel replaced because it will have perished and cracked, and after 24 years the air-con might need a re-charge.
But right now I'm wondering if there's a cooler new estate on the market than a box-fresh W124.
Click here to see more Mercedes W124s in our classifieds, including this at entirely the other end of the spectrum