Tuesday 11th September 2012
JAGUAR XF SPORTBRAKE TAKES A TOUR OF BRITAIN
New Jag supports 'Wiggo' once more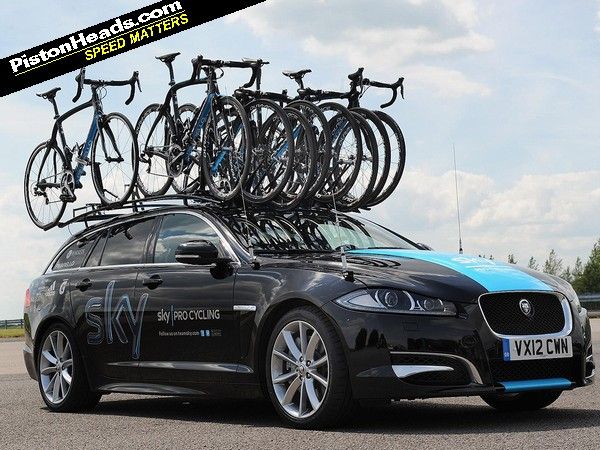 Cycling fans will already be familiar with
Team Sky's duo of Jaguar XF Sportbrake, following Bradley Wiggins' domination of Tour de France
. Now, one of the cars has taken to Britain's roads for yet more public exposure, in support of Team Sky's Tour of Britain entry.
This will be the first time Brits will see the XF Sportbrake uncovered and in action across the Tour's 800-mile route – and, given the huge following our Olympics gold-winning Team GB cycling team have gained over the past few weeks, it's probably going to gain quite some attention.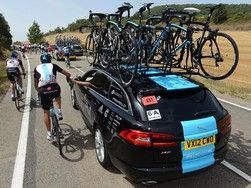 This will mainly be down to the amazing roof rack, which appears to carry an inordinate number of bikes and wheels (fully loaded, the XF Sportbrake takes nine bikes, and many more wheels).
The car's also decked out in bespoke livery and has both race radios and TVs to ensure the race can be followed by the team in detail. Jaguar says Team Sky itself had input into how the car was converted.
Jaguar gave Team Sky two prototype XF Sportbrakes, both of which were in action during Tour de France. One of them is touring Britain, supporting the riders both at base and, more significantly, on the road: cycling fans will be familiar with how they follow the riders closely while en route, handing over fluids and supplies where necessary – and, of course, helping fix any mechanical issues.
As official car supplier to Team Sky, Jaguar's taking an unusually active role in building a relationship with the cycling team. Converting two cars so extensively isn't the work of a moment: even more impressive is the fact Team Sky was given two prototype models well in advance of the car officially going on sale (they were handed over in June, six months before deliveries begin in November).
While these relationships can sometimes seem a bit lip service, this one is more convincing than most. Of course, the fact Team GB and Team Sky have performed so well over the past few months has certainly helped, too. As Jaguar global brand director Adrian Hallmark said: "the British public is incredibly proud of our nation's sports stars right now.
"The Tour of Britain is a great opportunity for Jaguar to underline its support for Team Sky."