Thursday 13th September 2012
BRABUS MERCEDES SL500
Mercedes is making ever-faster cars. What can Brabus do about it? What they've always done - add more power.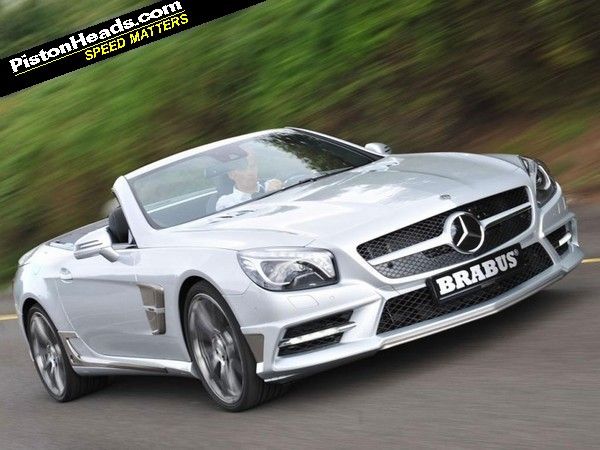 You've got to feel a bit sorry for Brabus. Not so long ago, the Bottrop tunemeisters were a prime go-to option for insanely powerful versions of stock Mercedes models. If you felt your 367hp CLK 55 AMG was a bit limp, then Brabus could offer you a 6.1-litre alternative with 425hp. Problem solved.
But now that standard M-B cars like the E63 AMG are leaving the factory with 525hp, how much further can Brabus push the performance envelope without making undriveable cars? Fortunately, this potential dilemma hasn't stumped them for long, as this latest project based on the new R231 SL500 proves. As you'd expect, the Brabus SL comes with a raft of cosmetic and performance upgrades.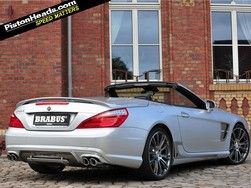 Aero/wheels package is pure Brabus
A full bodykit is available, comprising new bumpers, skirts and a rear spoiler, plus Brabus wheels. Subtle interior changes include new trims and illuminated sill plates. Brabus is also offering a mechanical limited-slip differential, along with a reprogrammed ABC (Active Body Control) system that drops the ride height by 25mm.
But Brabus has always been about big power, and the SL doesn't disappoint. Its 520 PowerXtra kit boosts the 4.7-litre twin-turbo V8 to 520hp and 604lb ft, increases of 85hp and 88lb ft over the standard SL500. Even so, that's still a chunk less power than the 565hp dished out by Mercedes' own Performance Pack-equipped flagship SL, the SL63 AMG.
Presumably, Brabus will work its magic on that in the near future, but with such well-resolved and powerful cars coming straight from the factory these days (Performance Pack-ed AMG cars now hit 186mph, so even Brabus's traditional high-speed bragging rights are under threat) we're hoping there's still going to be room for Brabus's brand of individuality in the high performance mix.