Wednesday 7th November 2012
WANT TO BE A TYRE TESTER?
Join Michelin at the 2012 tyre testing experience at the Porsche Experience Centre, Silverstone

Michelin and PistonHeads have teamed-up once again to offer two lucky PHers the chance to spend a day at the Porsche Driving Experience centre, Silverstone on Monday November 26 to test the very latest Michelin Pilot Alpin PA4 winter tyres. A
quick glance at the forums
suggests the subject of winter tyres is a very popular one so we expect lively debate around the results of this test. A full feature on PHers' impressions from last year's event can be
seen here
.
So, if you like the idea of driving Porsches on track shod with Michelin's finest winter rubber now's your chance to get involved.  The winners will drive a selection of models ranging from the new 911 to the latest Boxster and Cayman, with a spell on the famous "Ice Hill", and there's even some off-roading in the Cayenne to be enjoyed along with a demonstration drive in the Panamera too. After all that we think you'll perfectly understand how a winter tyre can work in all conditions.
Winners will also pay a visit to the Human Performance Centre to demonstrate their lightening reflexes on the "Batak" with the two fastest on the day winning a fast passenger ride in the Porsche GT3 driven by one of the professional drivers there on the day. For the foodies, breakfast and lunch is also included in the Porsche restaurant.
To enter the competition please click this link where you will also find further information and a list of all terms and conditions that apply.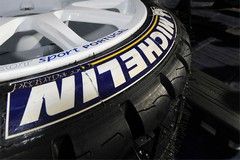 Note: The closing date for this competition is midnight on November 11. Winners will be selected at random by a Michelin Tyre Plc employee and will be notified by telephone or email by close of business Tuesday November 13. The winners are required to confirm their attendance at the event by Thursday November 15. Failure to confirm will result in another winner being selected at random to take that place