Wednesday 27th February
CHRIS HARRIS VIDEO: WYE DEAN RALLY
Chris and co-driver Dan do a 'proper' rally in the old BMW...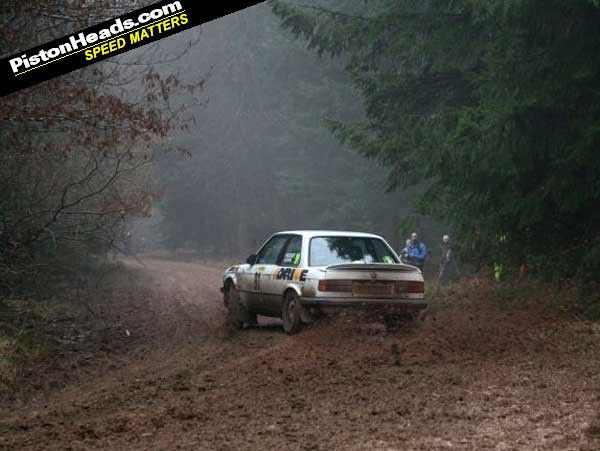 Neil Yates from Rally Prep, the poor souls charged with making sure the 325 was ready for its first outing on a real forest rally was unequivocal in his summary: "It may have
done you proud so far
, but there's no way it would have finished the Wye Dean in that condition, the bolts holding the pedal box were only hand tight."
I won't list the other slightly terrifying faults he found, but suffice to say I had to spend some money on the 325 to make it safe for an event that offered plenty of opportunity to hit something large and immovable. Much as it smarts to see an invoice for roughly half the sum you paid for the car in the first place, it's the only sensible option. Besides, we'd already completed a full day's test on gravel and two single venue rallies on very little maintenance.
This was a much, much more serious exercise. The entry fee was £475, the road cover for the car was £270, and six new gravel Hankooks were £510.
We also needed new pads, a general once-over of the motor and a look at each corner of the suspension. The boys fitted a quick-shifter and a spangly BMW gear-knob, but most importantly they changed the steering rack to a 2.7 turns lock-to-lock item from a Z3. The brake servo was disconnected, and a Clio item fitted should we want to re-connect it at any time.
The most disappointing aspect of this significant spend was receiving the car back and it, quite understandably, still looking like a complete skip. At least the rear-corner I stoved-in against a marshal's Discovery had been pulled back into place. But underneath, we knew the car was in a completely different state and ready to compete.
I kept telling myself this was a big ask for myself and Dan. We sat and worked through the notes and kept expectations low, but even then the first few miles were utterly daunting. As a driver, placing your faith in a bloke who has never read gravel notes before takes a hell of a leap. Poor Dan was in the eye of the storm - it must have been very stressful.
As many of you will know, we didn't finish - in fact we didn't even begin stage three - but the miles we completed were sensational fun and I now have the bug. The moment the car, the driver and the notes click - that is something very special. It happened to us a couple of times - I think.
This is a long video because it contains lots of onboard footage and some general shots of the other cars competing. Many people will find that dull, but I want those who are vaguely tempted by this sport to take a look at the way you get to drive a RWD car on these surfaces, and then tell me they don't want to have a crack themselves.