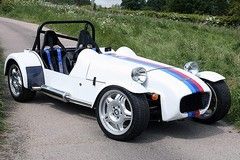 M3 wheels backed up by M3 engine
Kent-based GKD Sports Cars has created a Lotus Seven-style kit car using a BMW 3-series as a single donor vehicle, the first company to do so.
The new GKD Legend is based on E36 or E46 3-series running gear and will take everything from a 140bhp 1.8-litre four-cylinder engine to the 343bhp straight six from the E46 M3.
Even the four-cylinder Legend should be pretty lively, with a 595kg kerb weight giving 235bhp per ton. By way of contrast, a Lotus Elise manages just 156bhp per ton. At 650kg an E46 M3-engined Legend Six is a little heavier, but produces an organ-squeezing 527bhp per ton.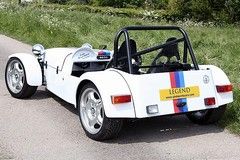 650kg, 343bhp. A terrifying combination
The Legend was born (if you'll excuse the pun) when GKD boss Peter Lathrope acquired the rights to the old Ginetta G27. After a redesign here and a re-engineering there, Lathrope more or less decided to start again, and the result was a classic Seven-style sports car.
The BMW bit arrived a little more unexpectedly, however. "It was basically because I couldn't find any more Sierra bits," admits Lathrope.
Whatever the reasons for its peculiar evolution, the result is intriguing. For the basic Legend, and depending on the state and costs of the donor parts you find, GKD says you can have a complete car for around £7000. The rather more appealing Legend Six (the only current kit car we can think of with a straight-six motor) could be built from as little as £8500, although only with an E36 M3 engine - an E46 single donor would undoubtedly be a more pricy option.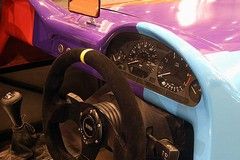 BMW instruments look weird. Good, but weird
Once you have your Legend kit, the BMW bits you'll need include an engine, gearbox, ECU,differential, halfshafts, the whole brake assembly, steering column, instrument binnacle, and wheels and tyres. In short, most of the oily bits of a 3-series bar the suspension.
GKD isn't done yet, though: there are plans in the works to bolt the Eaton M45 supercharger from a Mini Cooper S Works to the 1.8-litre versions, which should push power to more than 200bhp.