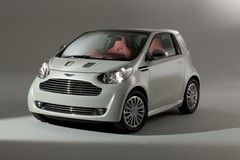 The Aston Martin Cygnet city car concept, which
Aston first revealed in look-we've-nearly-finished-it clay model form back in June
, has finally become a finished concept car.
As these first official images show, the Cygnet is still closely based on the Toyota iQ city car, retaining the same basic body shape and even the same front lights. The front has been given a heavy Aston-style rework, however, complete with trademark grille and even miniature bonnet vents.
At the rear, the iQ light cluster has been tweaked to give the Cygnet the familiar horseshoe shape, albeit set in the opposite direction to the Aston norm.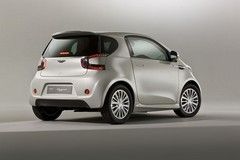 Overall - if you're being kind - you could say that the Cygnet looks like an pre-adolescent Aston. If you're being cruel, you could say it looks like the result of a horrible genetic experiment. We'll leave the choice up to you - and the P.H. O'Meter.
Inside, and as we have previously reported, the Cygnet retains the basic cabin architecture of its Toyota cousin, but the cabin has been extensively - and expensively - retrimmed.
Aston hasn't yet officially committed to building the Cygnet, but says that "work on the concept is ongoing and will continue into 2010 when it is hoped that it will become a production reality initially available to Aston Martin customers in the UK and Europe."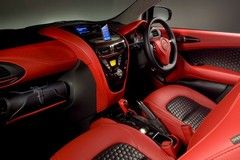 Should that happen, expect a production version of the Cygnet to be offered to existing Aston customers - or those buying a new 'full-size' Aston - for around £20,000.