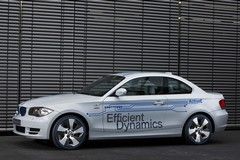 BMW is set to reveal its second all-electric car - the 1-series Coupe-based BMW ActiveE - at the Detroit show in January.
The ActiveE follows hot on the heels of the MiniE, and uses similar lithium ion battery tech, but this time to drive the rear wheels.
Like the MiniE, the ActiveE will be leased to a select few 'preferred' BMW customers, and will also form a significant part of the car fleet for the 2012 London Olympics.
The ActiveE is rear-wheel drive and draws its power from battery packs both in the 'engine' bay and beneath the boot floor in the rear axle casing, making the car a full four-seater (unlike the two-seat MiniE).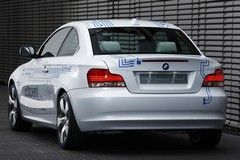 The electric motor manages to furnish the 1-series coupe with 168bhp and 184lb ft of torque. Both of which sound like fairly respectable figures until you factor in the 1800kg kerb weight courtesy of all those batteries. That's 425kg heavier than the similarly powerful 120i Coupe. Even so, the ActiveE scrambles to 62mph from rest in less than nine seconds.
Top speed is limited to 90mph in order to help protect battery life. BMW claims a real-world range of around 100 miles, a figure helped by recuperative braking that extends the cars battery life by up to 20 per cent.
As for us, we'd want one for those snazzy 'blue-wall' tyres alone. Or maybe not...