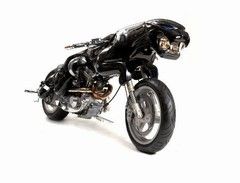 A video is circulating the webnet, showing this 'Jaguar Motorcycle' in action. Massow Concept Cycles revealed the design some time ago, but the video now doing shows the 'big cat' being prepped and driven on London roads.
The project took bike nut Barend Hemmes and designer Lee Rowland three years to complete, with the help of a Doncaster-based custom bike builder. The Jaguar logo was made using moulds taken from a real Jaguar 'Leaper Mascot' that Barend acquired through a friend in 2006.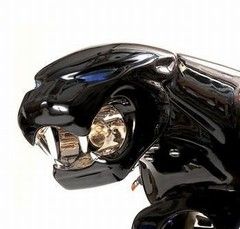 Underneath the bike is actually a 1997 Buell S3 Thunderbolt, with a 1200cc Harley Davidson V-Twin engine. Most of the mechanical parts were apparently sourced on eBay, with the rest being custom made.
Massow's website shows several other drawings and renderings of outlandish animal logo based designs, including ones based on the Peugeot lion, the Ferrari 'Prancing Horse' and Red Bull, er, bull. There's also one called 'Bentley' that doesn't look too much like a 'Flying B' to us. Still - full marks for effort, chaps.
| | |
| --- | --- |
| Ferrari | Peugeot |
| Red Bull | Bentley (?) |