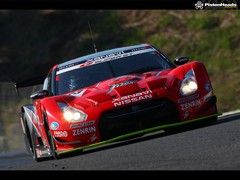 Click to preview
If we're honest, the latest
Nismo Clubsport version of the R35 Nissan GT-R
sounds like a bit of a damp squib. Especially since it seems unlikely to have much in the way of stripped-out lightweight attitude.
Admittedly a GT-R damp squib is going to be a lot less damp and squib-like than many a so-called sports car, but we can't help feeling like it's a bit of a missed opportunity.
Still, every cloud and all that...because sitting alongside the Clubsport GT-R at the Tokyo Auto Salon tuning show will be the 2008 Xanavi Nismo GT-R racer.
This stunning racer was campaigned in the 2008 Japanese Super GT championship and, although rear-wheel drive and a 4.5-litre naturally aspirated V8 hardly make it a proper GT-R, they do make it a very proper piece of kit. Why can't all racing cars be like this?
Normal (1280x1024)
Widescreen (1440x900)
Supersize (2048x1536)