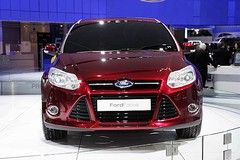 Ford is revealing the latest incarnation of the Focus at the Detroit Auto Show today, albeit exclusively in 'mid-range' flavours.
It's obviously far too soon to be discussing a new ST or even RS (we're not quite over the 'old' RS just yet), but that didn't stop us from asking Ford anyway. Rather unsurprisingly, the nice PR man brushed off the suggestion and directed us back to the shiny new 'cooking' version - but we reckon there's cause for optimism.
Although the new Focus rides on an all-new platform, the chassis and supension arrangements appear to be along the same lines as previous generations - albeit with some small but promising changes, which suggests that this could be a cracking handler.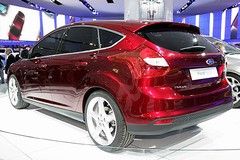 The multi-link 'control blade' rear suspension that has given previous Focuses such agility has been revised, along with the semi-isolated front and rear subframes. The variable-weight electric power steering system is also totally new.
The engines will be broadly grouped into two main strands; four-cylinder direct injection 'EcoBoost' petrol engines on the one hand and, representing the derv contingent, a range of revised 'Duratorq' TDCi common-rail diesel lumps. Being 2010, it's unsurprising to learn that Ford has targeted fuel economy improvements across the range of 10-20 per cent.
In a welcome move (at least for our friends across the pond), the new Focus is also the first to be offered with the same chassis and suspension architecture in all markets, meaning no rubbish soggy versions will appear in foreign lands to sully the car's good name.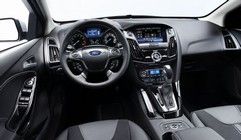 The 'boggo' Mk3 Focus will go into production towards the end of this year, and should be on sale in the UK in the first quarter of 2011. It took Ford four years to develop an RS version of the Mk1 Focus, and five years to knock out one for the Mk2, so we're not expecting anything like that too soon. But the Mk2 did get an ST version within a year of its launch and, as
PH found out with our fantastic long-term ST-2
, this was no mere 'warm' hatch.
It seems to us, albeit at this early stage, that with the Mk3 Focus's revised steering and suspension and purported improvements in stiffness and possibly weight, the ingredients are all there.