A revised version of the Ford Mustang Shelby GT500 has been unveiled at the Chicago motor show featuring a new all-aluminium version of its 5.4 litre V8.
With its new engine the GT500 is good for 550bhp, up 10bhp from its predecessor, although much of that seems to be attributed to a new exhaust set-up which has been modified for more power and extra 'burble'.
The switch to an aluminium block was made to reduce weight in the quest for improved handling, and the new GT500 is said to be approximately 50kgs lighter as a result, with almost all the saving over the front axle. Although the engine is now even more closely related to the Ford GT's alloy V8 from which the car's former iron bock was derived, the new Mustang version predictably retains a wet sump system - unlike the dry-sumped GT.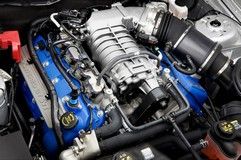 Of additional interest is the new SVT Performance Package which is available as an option, giving customers the option of a 'track ready' Mustang from the showroom.
The SVT pack includes Eagle F1 tyres, a higher rear differential ratio, stiffer springs and lighter 19ins alloy wheels.
The new GT500 goes on sale in the spring in the US, when prices will be confirmed. To read our story about official UK sales for the Mustang click here.
Click 'play' above to view