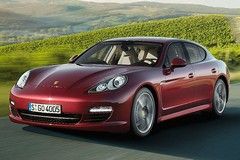 Porsche has revealed two new entry-level Porsche Panameras, both fitted with an all-new V6 powerplant.
Labelled simply Panamera and Panamera 4 (no prizes for guessing which one comes with four-wheel drive), the two new entries into Porsche's super-saloon range will be in showrooms from May, although UK customers won't be able to get their hands on the cars until June.
The all-new V6 majors on economy and emissions, with the RWD V6 bettering 30mpg and both two-wheel-drive and four-wheel-drive models passing EU5 regs.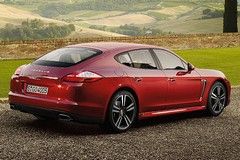 Porsche hasn't released any figures, but performance shouldn't be bad - the new engine pumps out a respectable and pleasingly symmetrical 295bhp and 295lb ft of torque, as well as saving 30kg in weight over the naturally aspirated V8 in the S and 4S models.
The V6 Panamera will cost £61,461, while you'll have to fork out £66,929 for the all-wheel-drive version.