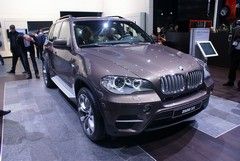 The BMW X5 has received a Geneva facelift. See if you can spot what they've done...
It took us a while too: It's got bigger air dams on the front for better airflow to the engine, there are bigger exhausts at the rear and jazzier light clusters.
Apparently most of the changes are under the bonnet. This facelift is all about getting the X5 to cover ground faster, while simultaneously (er...) protecting the planet.
Every engine receives a power hike, most notably the xDrive50i (xDrive48i replacement) - which receives an extra 52bhp, bringing the total to 402bhp.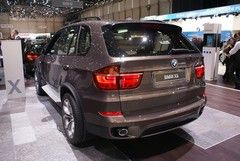 Each X5 now comes with BMW's 8-speed gearbox as standard - 1) so you can tell your mates your car is better than theirs because you've got an extra gear 2) it's smoother and 3) it's better for the environment.
As you'd expect from BMW - if you're getting more power, they'd like more money. Each model is roughly £2000 more than the one it replaces.