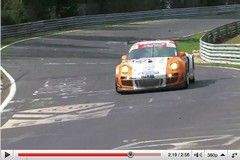 Rapid F1 rookie Nico Hulkenberg has put the hybrid Porsche 911 GT3 R through its paces in a three-lap test at the Nordhschleife.
This video of Hulkenberg's short blast around the 'Ring - the F1 racer's first run at the Nordschleife - certainly proves the full-blooded nature of the hybrid 911 race car; you only need to listen to that flat-six growl or the whining transmission to realise that this is no half-hearted marketing effort.
Putting the Williams F1 driver behind the wheel of the Porsche was no random decision, either; the electrical flywheel power generator fitted in the cockpit beside the driver - which generates the electric power instead of conventional batteries - is made by Williams.
The system works much like the F1 KERS system from 2009. When overtaking or accelerating out of a bend, the driver can manually override the controls by pressing the boost paddle on the steering wheel and sending energy from the charged flywheel generator to the front axle. This gives an extra 161bhp after each charge process and is available for approximately six to eight seconds.
The Porsche 911 GT3 R Hybrid makes its competitive debut at the Nurburgring 24-hour race on 15-16 May.
And Mr Hulkenberg's conclusion? "Great car, fascinating technology and an incomparable track."