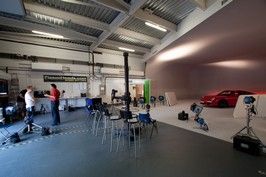 Photo taken by PHer Byker28i on the day
Last weekend was the first of PistonHeads' Studio Photography sessions, held at the LAT studios in Teddington, where 10 PHers joined us to learn from LAT pro-snapper Pete Spinney how to shoot a car in the studio.
At 9.00am we opened up the studio to the guests and were greeted with a fine display of PH metal in the car park, gleaming in the sunshine of what was to be the hottest day of the year (so far). Waiting in the studio was a rather lovely 997 Carrera supplied by Porsche UK that was to be the subject for our intensive learning session under the guidance of Spinney.
During the morning we learned how lighting can make all the diiference as we lit the car in stages before adding colour and effects to get the final shot. Interaction played a big part and everyone had a go at moving and adjusting the lights helping us to gain a better understanding for the afternoon session. Pete also encouraged us to make suggestions as to how the shot could be improved as the morning progressed; far from being preached to we all played a part.
Timelapse Video from the April Session
PHers pose at the first ever studio session
After lunch we had time to get five of the PHers cars in the studio, which gave a completely new challenge as we worked out how to light everything from a large Audi S5 to a tiny ex-Academy Caterham racing car. The results really do speak for themselves and are a credit to the hard work put in by all those who attended. Pete also talked through post-production techniques on the Mac for those that wanted to learn more about post-shoot fettling.
We are running these sessions once a month throughout the year, priced at £150 per person for a 09.30-17.00 day, with food and drink included in the price.
The May and July sessions are already fully booked but we have space available on the following dates:
21st August session - Sold Out
25th September session - Almost Sold Out
Taking reservations for October
Please e-mail me to reserve your place on any of these sesssions.
View feedback from the April session here.
The LAT studio is based in Teddington, Middlesex.