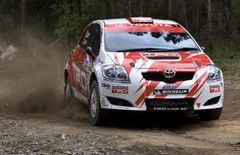 Word has reached the virtual ears of PH's internet spies that Prodrive could be set to return to the WRC, with either Toyota or Mini, depending on which rumour you prefer.
When Subaru quit top-flight rallying at the end of 2008 David Richards' Prodrive organisation moved its focus away from the stages and concentrated on getting a slot on the 2010 F1 grid. But when Prodrive failed to secure an F1 grid slot - losing out to the ill-fated USF1 project - its attention turned once again to rallying, with a view to returning to the WRC in 2011.
Now it seems that Richards has been in talks with both Toyota and BMW. "We will be back [in World Rally] next year with a brand new car. It is a new manufacturer," Richards told The Paddock online magazine in an interview.
But which manufacturer? Richards did not deny that it could be Toyota, and Toyota people have been at several WRC events this year. The Japanese giant also has - presumably - a large motorsport budget to play with following its withdrawal from F1 at the end of last year, and could presumably cope with a WRC campaign - which would cost less than 10 per cent what it spent annually on F1.
Prodrive had previously been linked with BMW and Mini for the 2011 season, however, with a WRC version of the new Countryman SUV. But unconfirmed reports suggest that BMW isn't willing to wholly fund a WRC programme.