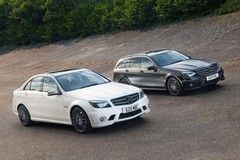 A UK-only special edition C-Class has been launched by Mercedes, offering more power and performance than any of its C siblings.
Based on the C 63 AMG, the new edition is called the DR 520 - a name chosen because each car's 520hp output will be 'Dynamometer Rated', we were reliably informed at Goodwood yesterday when the new edition got its first public airing.
Just 20 examples of the DR 520 will be built, and sold exclusively through the Specialist Products division at M-B World in Surrey.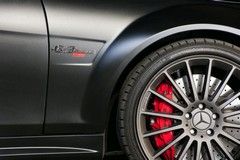 The DR 520 gets its performance upgrade from what is effectively a Brabus engine kit, and boasts 479lb ft of torque, which means it has a 60hp and 40lb ft advantage over the regular C 63 AMG. Thus equipped, the DR 520 Saloon can reach 0-62 mph in just 4.1 seconds with the Estate achieving the same in 4.2 seconds, while both are electronically limited to a top speed of 187 mph.
The AMG Performance Pack Plus is fitted to the DR 520 as standard and features AMG's high-performance braking system with red callipers, while the Brabus engine upgrades include forged pistons, newly-developed connecting rods and a revised crankshaft. There's also an AMG Carbon Fibre rear spoiler for the Saloon version.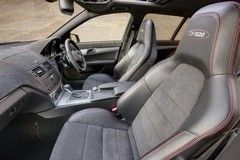 Interestingly, the DR 520 comes with a black or white matt wrap instead of bespoke paint, which is primarily a means of keeping the cost down to £9,995 above the standard car. If you want to peel the wrap off the model will still be distinguished by its Titanium finish alloy wheels, grille and DR 520 badging on the wing and the boot lid.
Inside, the sports seats are upholstered in leather and exclusive Alcantara finished with red or white contrast stitching, as is the dashboard and upper door panels. The multi-function AMG Performance steering wheel is clad in Nappa leather and Alcantara.
The saloon version costs £62,430 and the Estate £63,880, and we've been tipped off to expect similar projects to emerge from M-B World in future - with perhaps a 'DR' E-Class next out of the blocks some time next year.