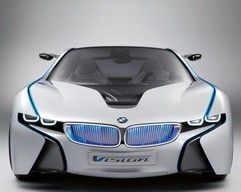 Visual cues will come from...
Eco-friendly sports cars are truly all the rage at the moment with Audi, Mercedes, Porsche and Lexus all planning electric or hybrid sports cars.
Now BMW is jumping on the eco bandwagon - at least according to German car mag Auto Bild.
The German journos reckon that BMW is currently hard at work on a production version of the dramatic Vision Efficient Dynamics concept coupe that it revealed at the 2009 Frankfurt show - and that a hot M version is also waiting in the wings.
The regular car will be called the i100 and is due to hit showrooms in 2013.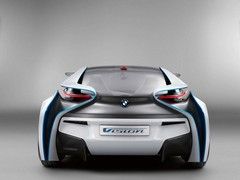 ... this stunning concept
The i100 will be a plug-in hybrid and will use a three-pot direct-injection turbodiesel - essentially half a 335d motor - with 165 to 185hp. That will be supplemented by a pair of electric motors generating 100hp between them.
The rumoured M version, says Auto Bild, will use a straight six from the next generation M3, coupled to a super capacitor to give it a clean, green power boost. Now that's the sort of eco sports car we can imagine having some serious fun with with...