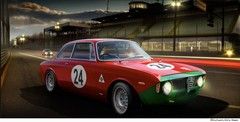 Alfa Romeo has commissioned artist Federico B Alliney to create a collection of seven pieces of art featuring classic Alfa Romeos.
If you don't know Alliney, he is apparently the chap behind the look of the big blue creatures of Avatar - though fortunately his Alfa pieces aren't blue.
Anyway, the result of the collaboration of Alfa and Alliney is the 'Cross and the Snake' collection, which features classic Alfas (such as the BAT 9, the Disco Volante and the Carabo concept) against various odd backgrounds, including an abandoned greenhouse, a petrol station, and - er - a jungle.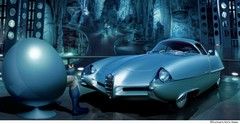 Each of the pieces will be reproduced just 30 times, so if you want to get hold of one, you'd better move quickly. And if you want to know why Alliney is particularly intrigued by Alfas, then the man himself can explain.
"It's as if these cars are linked to our inner self and to the essence of the earth," he says. "I have never been able to explain this rationally and from there my research continues, but these mechanical sculptures transcend the simple notion of movement, they are something vital transmitting emotions and attracts us to them." Oh. Good. Thanks Federico.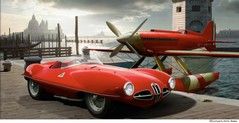 He also says that "choosing an Alfa is a choice of faith, not merely a choice between one car or another". You're not wrong there, Federico...