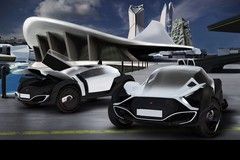 The 'Holon'
Question: What do you get if you cross a McLaren with an IED?
Rather than a British supercar spread over a very large area, the answer is actually 33 curious concept design studies - if only because the IED in question is Turin's Istituto Europeo di Design, and not something that contains any explosives.
The IED has been working in collaboration to design a McLaren for 2020 - or at least a hybrid, mid-engined four-wheel-drive, two-seat SUV McLaren for 2020.
After a chat with the folks at McLaren's Woking HQ, the IED students came up with 33 proposals.That was whittled down to eleven cars for 'further developent'.
Of those 11, three were picked out as 'winners', to be turned into quarter-scale models, the Holon, the Torok and The Bio Renovatio, the second and third of which you can see in animated form below. It's all a bit science-fiction for us - we'll be happy with an MP4-12C for now...
| | |
| --- | --- |
| The 'Torok' | The 'Bio Renovatio' |
| | |
| --- | --- |
| 'White Stalker' | 'Pangolin' |
| 'Aorv' | 'Tasman' |
| 'M-Ray' | 'Firefly' |
| 'N-S' | 'Atlas' |