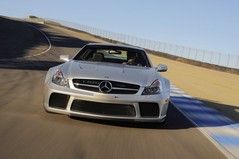 The last Black Series offering was the SL
AMG boss Ola Kallenius revealed to the press at the LA motor show that two AMG models will get treated to a hardcore 'Black Series' makeover in the 'very near future'.
Kallenius didn't go into any further details about the new cars, but prototypes of what could be a Black Series C63 AMG have been spotted testing in Germany.
If that is the case it could be a last hurrah for the 6208cc naturally aspirated V8. The prototype doing the rounds is a non-facelift car and Mercedes is getting a refreshed C-class ready for some time in 2011, and the new 5.5-litre twin-turbo V8 is already being phased into Merc's AMG range.
As for the identity of the other AMG Black Series model? Your guess, as ever, is as good as ours... The E-class saloon maybe? Or maybe the E-class coupe? We like the sound of that...