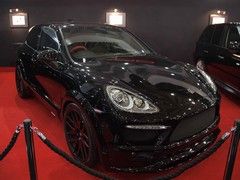 Fledgling British tuner Merdad has revealed its two-door take on the Porsche Cayenne – the 902 Coupe.
Although Merdad revealed its plans for the 902 Coupe back in June, this is the first time the coupe Cayenne – a niche that even Porsche hasn't seen fit to fill, we ought to point out - has been seen in the metal.
Aside from a 750bhp version of the 4.8-litree twin-turbo unit from the regular Cayenne, the 902 Coupe also features a bespoke leather interior, a unique body kit, something called a Merdad 'Super sound' exhaust system (whatever that means), 22-inch wheels and the ability to electronically lower the car by 40mm.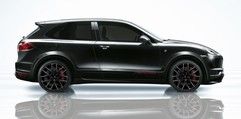 Following its recent debut at the MPH show, the 902 will also be on display at the Essen motor show in Germany from 26 November – should you wish to check it out in person.
Oh, and if that doesn't float your boat, there's a 'regular' version of the Merdad Cayenne with a full complement of doors, as well as a Merdad-ised Range Rover Sport.