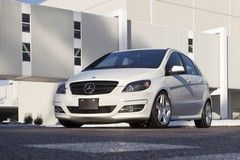 It's safe to say that the B-class is not one of our favourite Benzes, but this is probably as close as we're ever going to get to a B-class that we actually like.
It's called the B55 and it's been created by a team of Mercedes trainees at the firm's Rastatt plant. Unbelievably, they've managed to squeeze a 5.5-litre, 383bhp Mercedes V8 into that stubby nose.
It wasn't even that tricky a heart transplant, it seems - for a team of twelve second-year and third-year trainees specialising in production mechanics and automotive mechatronics, that is.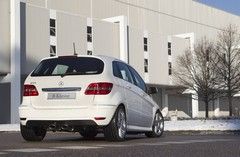 Out went the old 2.0-litre turbodiesel lump, and in went the V8 - without even the need to change engine mounts. Naturally, retaining front-wheel drive was out of the question, but the rear axle from an old W210 series E-class was found to fit snugly into the car to provide proper-wheel drive, while the brakes were pinched from an old C32 AMG.
The only real headache, we're told, was getting the ECU to talk properly to the rear axle - and boy, are we glad they overcame that hurdle...