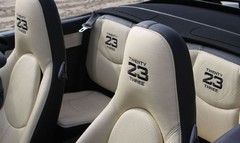 Here's a novel way to help remember tricky numbers like your shoe or collar size, courtesy of footballing leg-end David Beckham.
Fed up with embarrassing squabbles over shirts in the locker room on training days, David cunningly had the number 'twennyfree' embossed, stitched, engraved and possibly enamelled on every free surface on the 2008 Porsche 911 Turbo he drove to the ground.
Thus free to concentrate on his footie, David was reinstated as captain of the England team in 2008 (we learn from Wikipedia), for a friendly match against Trinidad and Tobago. The car is now up for sale on eBay, causing almost unprecedented levels of excitement across the internet. Well, that's football.