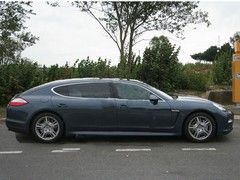 Not what an LWB Panamera will look like...
Porsche is working on a long-wheelbase version of its Panamera fastback-ey saloon thingummy for launch in 2012, according to a report in US magazine
AutoWeek
.
Porsche is set to bring the stretched Panamera to market to help satisfy demand from customers in Chinese and North American markets for extra rear legroom - though we doubt that making the Panamera leggier will do much for its already dubious looks.
All the extra length in the car would come from a larger door aperture and longer rear door (just as shown in our exclusive, state-of-the-art artist's impression, right) and should push the Panamera's wheelbase up by almost 130mm to around 3050mm.
That's still a fair bit shorter than the Mercedes S-class, mind which sits at 3150mm, or the Jaguar XJ LWB at 3157mm, so perhaps the established luxury limo competition need not worry just yet.
But what about the other, oft-repeated rumours of other body styles, such as a Panamera Convertible or a shooting brake?
Nothing doing just yet, it seems. "We've decided to wait until the second-generation model before adding alternative body styles," a Porsche source told AutoWeek. "We're already flat-out meeting demand for a single body style as it is."