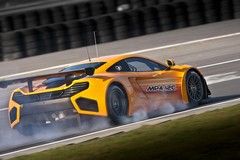 The McLaren MP4-12C GT3 racer has completed it first tests at the MIRA proving ground facility and Silverstone.
Being the decent chaps they are, they also took along a photographer and videographer, the fruits of whose labours you can see displayed here.
The car itself has been built by a new company called McLaren GT, effectively the name for the joint venture between McLaren Group and CRS Racing that's creating the car, which will be building a limited number of the GT3 racing cars in time for 2012 GT3 championships.
MP4-12C GT3: Technical specification outline from the PR Material:
The 12C GT3 race car is based on a standard 12C. Developing the race car has required a team of engineers, technicians and test drivers from McLaren Group and CRS Racing to focus on several fundamental components.
The 12C GT3 is based on the McLaren carbon MonoCell chassis, which weighs just 75kg and is produced in a revolutionary one-piece mould. Race specification composite body panels and a fixed rear wing have been added to the GT3 car.
The same 3.8-litre twin turbo V8 as in the production car on which it is based will be used in the 12C GT3, tuned to race specification. A bespoke paddle-shift system operating an all-new Ricardo-designed gearbox developed specifically for racing will be fitted. This system eschews the 7-speed SSG dual-clutch Graziano transmission supplied in the standard 12C.
New electrical architecture is being supplied by McLaren Electronic Systems Limited, including electronic dash and data technologies. Bosch Motorsport will supply a new ABS system for the 12C GT3.  A new aerodynamics package has been developed by McLaren Racing in compliance with GT3 regulations, incorporating a new front splitter, door blade, rear wing, diffuser and louvres in the front fenders.
The new GT3 car will feature motorsport-specific braking and suspension components. These include bespoke callipers by Akebono, Official Supplier to Vodafone McLaren Mercedes.  Due to regulations imposed by racing authorities, the 12C GT3 will not feature the road-going 12C's ProActive Chassis Control System; negating the requirement for an anti-roll bar. Instead, the 12C GT3 will use a configuration comprising race-specific roll bars and dampers.
McLaren Automotive Chief Test Driver Chris Goodwin said: "Those who have seen the new MP4-12C production car won't be surprised to learn that immense attention to detail has been applied in developing the GT3 version. Quality is a watchword.  We know that our potential customers will expect McLaren GT to deliver a competitive car right out of the box and, starting now with a programme covering aerodynamics development and durability testing, we are determined to do just that.
"The McLaren GT team is committed to achieving unprecedented levels of performance, also guaranteeing the levels of quality, reliability and durability with which we expect to delight future race teams entering competitions with the 12C GT3."