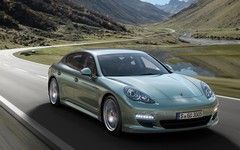 Porsche reckons you'll be able to eke 745 miles out of every 80 litre tankful you pour into its new Panamera diesel - which goes on sale in the UK in August priced from £62,143.
This amazing fact means, they say, that you'll be able to 'take four passengers in sporting comfort from Lands End to Loch Ness without refuelling'. Although what you're supposed to do with said passengers when you get there is anyone's guess, especially as they're likely to be quite bored already...
That's because the diesel Panamera features a 3.0-litre turbodiesel V6 engine that makes a not terribly exciting 250hp, although with 405lb ft of torque available from 1,750 rpm to 2,750 rpm the car isn't a total sluggard. Porsche claims 0-62mph in 6.8secs and a top speed of 150mph, which should be enough to impress everyone except, er, Porsche drivers?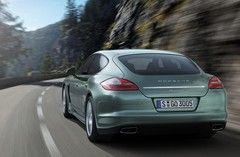 With rear-wheel drive, an eight-speed Tiptronic S gearbox, and start-stop as standard, your tax accountant should be impressed as the car emits 172 g/km with that 43.5mpg combined economy figure. With optional lower rolling resistance tyres, efficiency improves further still, to 167 g/km and 44.8mpg combined.
Diesel tech geeks will be pleased to hear the new model's 3.0-litre V6 engine is state of the art, featuring common rail direct injection through piezo valves at a pressure of 2000 bar, turbocharging employing electrically controlled variable geometry turbochargers (VGTs) and emission control achieved by controlled exhaust gas recirculation, oxidation catalyst and particle filter.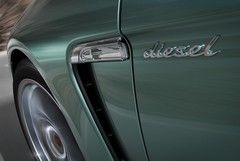 Oh, and in case anyone is any doubt about your new Porsche's credentials, it says 'diesel' on the front doors. (Stop sniggering at the back...)