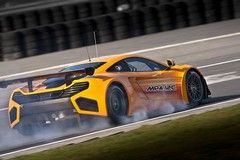 McLaren has released fresh details about its GT3 programme based around the stunning 12C racer - also featured in the tantalising new video below. A factory 12C GT3 goes into battle this year as part of the preparation for a 20 car customer programme in 2013.
The company's racing arm McLaren GT (a partnership between McLaren and CRS Racing) says boldly that it "aims to deliver the highest quality, most reliable and most driveable car on the GT3 grid" when cars are delivered to privateer teams. To that end the warm-up campaign this year will include the Blancpain Endurance Series race at Spain's Circuito de Navarra, Magny-Cours in France, and Silverstone. McLaren also expects to enter the 24 Hours of Spa and the new 12C GT3 will also be demonstrated to UK fans at the Goodwood Festival of Speed.
CRS Racing Team Principal Andrew Kirkaldy will be joined by 2010 Vodafone McLaren Mercedes test driver Oliver Turvey and Portuguese racing driver Álvaro Parente in the McLaren GT driver line-up for the 2011 development programme.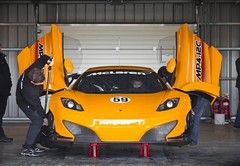 The 3.8-litre McLaren V8 twin turbo 'M838T' engine supplied in the road car also features in the 12C GT3, but it has been de-tuned to 500PS (from 600PS) in order to meet FIA performance-balance regs.
We're told that as well as unique engine calibration, the racer gets a bespoke racing transmission developed in partnership with Ricardo (who also developed the engine with McLaren) and suspension tuned specifically for racing.
"With the tyre grip balance moving forward on the GT3 racing tyres it was necessary to move the centre of gravity further forward and the only way to do this was to reduce weight at the rear. A six-speed sequential shift gearbox by Ricardo was selected because a race-specific transmission is 80kg lighter than the Seamless Shift, seven-speed gearbox used in the road car. All the internal components have been proven in other racing series," says McLaren Racing head of engineering Mark Williams.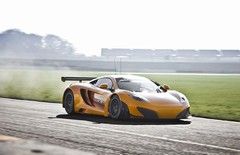 A new aerodynamics package produced entirely from carbon fibre has been developed to meet GT3 regulations, incorporating a new front splitter, door blade, rear wing, diffuser and louvres in the front wings.
Interestingly, McLaren GT plans to offer its customers the opportunity to develop their 12C GT3s using bespoke programmes in the McLaren F1 Simulator, which factory test driver Chris Goodwin reckons will be "a huge competitive advantage".