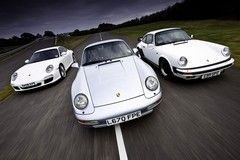 None of these is the new 911...
The new '991' Porsche 911 will have a KERS system as standard across the range, according to whispers on the internet.
The system (which, for those who don't already know gathers energy from braking via a dedicated flywheel system in order to offload it for an extra boost of power when the driver wants it - such as when overtaking) should give the Porsche a little extra oomph to add to the expected 350hp from the downsized 3.4-litre flat six - and should ensure that it bests the current Carrera's 4.7sec 0-60mph benchmark.
But how do we know the 991 will have KERS? Well, apparently (so say the folks at US car blog Autoblog, who broke the story) the key is the extra four inches in the wheelbase, which is just the right length to fit in a KERS flywheel between engine and gearbox.
Of course, this might not be true - there's no official info about the next-gen 911 out and about as yet - but it's certainly going to prove to be a talking point. Could a KERS-equipped 911 prove as controversial as the move to water cooling was back in the 90s? Only time, we suppose, will tell...