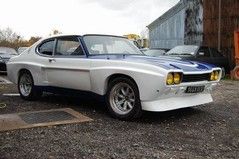 Scheel reclining seats, Springal steering wheel, FAVO 6J wheels, correct 'QZ' engine with C1 Kugelfischer injection... Boring techno-babble to some, but to the classic Fast Ford fraternity these words indicate the presence of the Capri equivalent of the Holy Grail - an RS2600.
Not sold in the UK when new, this one appears to have been delivered to the South of France before spending some time in Italy and then returning again to France in the possession of a local town mayor.
Although the body kit is apparently the correct RS item for 1973, it was added by the last owner but, frankly, he shouldn't have bothered. The good news is that all the badges and mouldings that were removed when the kit was fitted are still with the car, so it could be put back to its original condition. Then again perhaps not... because the classic racing crowd will know that one of these can get you invited to the Classic LeMans and a load of other high-brow race meetings, so it's just as likely to be rebuilt as a racer.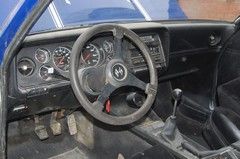 Recently placed for sale on the UK market
(we should clarify that the car comes with the correct FAVO wheels and not the Minilites it wears in the link), when it arrived here the current owner had the car inspected by British RS expert Len Pierce, who confirmed that all the correct identification plates and chassis stampings were present, and that it still has its original engine.
It's showing 68,000 miles, has never been welded (nor, apparently, does it need any), and the interior has not been tampered with since it left the factory. Sadly though, you won't just be able to tax it and hit the street for some Seventies-style hooning.
The car has not run for about 10 years, and clearly needs (and deserves) to be rebuilt. It's a hard car to value, but £15,995 seems like a sensible starting point for a numbers-matching, original (ok...apart from the RS body kit) piece of fast Ford heritage. Is this a classic case of 'find another one...?'