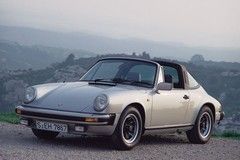 It seems as if the new-generation of 911 is attracting rumours like flies round a discarded burger, but the latest one is rather interesting: according to German car mag
Autobild
, the old-style 'hooped' Targa body is to make a return on the forthcoming 911.
The classic Targa roof disappeared when the 964 was replaced by the 993 series, with subsequent Targa models getting instead a complex sliding glass roof.
We don't know just how likely this return to a traditional-style roof is, but it's certainly an intriguing possibility, and the original Targas were a deeply popular 911 variant.