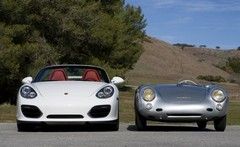 Not the new Boxster. Either of them. Obviously
Fed up of random rumours about the spec of the new Porsche 911? Fancy a new Stuttgart-designed car to get worried about? Course you do. And here on PH your wish is our command.
Because the third-generation Boxster is due to be unwrapped at the 2012 Detroit motor show, with its coupe sibling, the second-gen Cayman expected to arrive before the year is out.
And the first significant rumour? Both Cayman and Boxster will go to four-cylinder power. But fans of six-cylinder power needn't worry too much, because Car Magazine's Georg Kacher reckons this won't happen until the two cars are facelifted in 2015/16.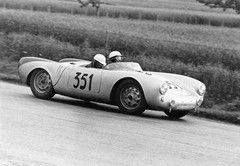 When the four-pot Boxster and Cayman do come on stream, however, they will most likely be powered by a range of 2.5-litre twin-turbo flat-four models, with up to 355bhp and 347lb ft of torque - so they won't be lacking in power or character.
Although a hybrid Boxster/Cayman is also mooted for then, so we'll see if Porsche can be the firm to actually make a sporty hybrid work within a couple of years...
There is also a 1.6-litre four-cylinder engine in the offing, but it looks like this could be reserved for the oft-mooted sub-Boxster roadster, which could also get VW, Audi and even Seat siblings.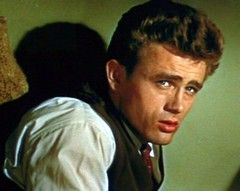 Dean not impressed by hybrid Porsches
We suppose you could think of that one as a kind of 21st-century Porsche 914, although German mag
Auto Bild
reckons that Porsche is planning to Revive the 550 Spyder name for its new sportster.
Yep, that one, the one in which a certain J Dean ended his days... (cue gratuitous pics of James Dean and a 550 Spyder...)