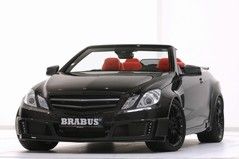 The world's most powerful and fastest four-seater cabrio. These are the words at the top of the press release for the new Brabus 800 E V12 soft-top, and they tell you more or less all you need to know about Brabus's latest insane creation.
The Brabus E V12 powertrain is a familiar one. We've seen its twin-turbocharged, 788bhp, 1047lb ft insanity in both the saloon and coupe E-classes, but somehow to dump it all into the chilled-outboulevardier that is the E-class cabrio is genuinely eye-opening.
As are the numbers: courtesy of all those horses, the E V12 cabrio can knock along at 231mph flat out (presumably with the top up) and, should you find a sticky enough surface, can hit 62mph from rest in 3.7secs, 124mph in 9.9secs and 186mph in 23.9secs.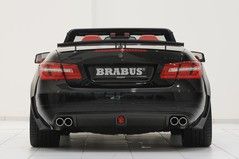 It's not cheap, though, being built to order 'from' 478,000 euros (£423k). You do get more than just epic performance in exchange for your (large) pile of cash, however.
Brabus goes to the trouble of fitting a high-performance LSD (thankfully), coilover suspension, chunky wheels and tyres, big brakes (380mm front, 360mm rear) and a wind-tunnel-honed aero package, as well as the usual Brabus shiny and/or leathery bits.
You can check out the spec of the E V12 cabrio in finer detail in the original press release.