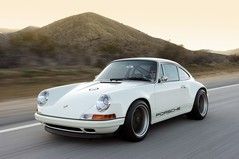 Singer Vehicle Design has inked a deal with Cosworth for the famous engine builder to become the exclusive engine supplier for its
gorgeous re-imagined 911
.
Just as Singer delivers its third 'ultimate classic 911' to a no-doubt-ecstatic customer, Rob Dickinson's company has announced both an engine deal with Cosworth and an agreement with composite experts Aria Group to prepare, paint and deliver carbon fibre bodies for Singer 911s.
Customers for the cars, which range in price between $190k and $300k (£120k-£188k), will be able to choose from Touring, Sport or Cup spec engines, with 3.6 litres and 300hp, 3.9 litres and 380hp, or 3.9-4.0 litres and 'more than' 425hp respectively. All of these will have been calibrated and specced by Cosworth and San Diego-based engine designer Jae Lee of Mirage international.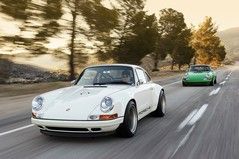 Meanwhile, Aria should bring some serious high-tech construction credibility to Singer. "The big advantage we bring to the Singer 911 is that we provide the type of technology that is usually only available for military aviation and major motorsports manufacturers," says Clive Hawkins, president and owner of the Aria Group.
So, Cosworth engine know-how and military/motorsport standards applied to the build of the bodies. It's almost enough to justify that beefy price tag...