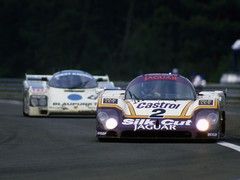 Some of these...
Jaguar is once again aiming for the top step of the Le Mans podium, the first time it has gone after an outright win at the 24-hour race for 20 years.
According to Autosport magazine, a decision has been made 'in principle' for a full-on assault on victory at La Sarthe, and now Jaguar and parent company Tata Motors are looking into creating an all-new LMP1 challenger.
Jaguar certainly has form at Le Mans - its roll-call of seven victories makes it the most successful British marque there (beating Bentley's six titles), so we hope Tata and Jaguar are taking this return seriously. The early indications seem promising, however, as Jaguar isn't setting a timescale at the moment - and this is not the sort of project that should be rushed into...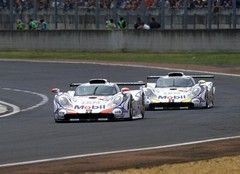 ...could be fighting these...
It looks as if Jaguar will have some pretty stiff competition out on the circuit, mind. As we reported a few weeks ago,
Porsche is after its 17th overall victory
with a programme that will see the Stuttgart shield return to Le Mans in 2014. Oh, and word has it that
Toyota has been working on its own LMP1 prototype since 2010
- and Toyota is a marque that's very hungry for a Le Mans Wins after its oh-so-close attack with the GT-One in the late 1990s.
So, are we about to see a new golden age of Le Mans, with Aston Martin, Porsche, Jaguar, Toyota, Peugeot and Audi all squabbling for the honours? We hope so, although it seems possible that Audi may bow out if Porsche makes a return, rather than indulging in internecine conflict with its VW group stablemate...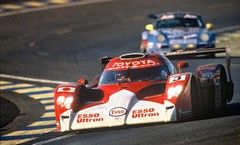 ...and a bit of this in the future
But whatever the state of Le Mans over the next few years, perhaps Jaguar's keenness to play at the top-end of the automotive game might translate into some seriously rapid road cars. We know the
CX75 is already heading for production
- so could Jaguar's return to Le Mans herald a kind of modern-day XJ220? Here's hoping...