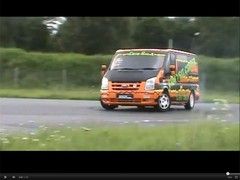 We always reckon that a rapidly driven Ford Transit should be really be finished in a grimy white, be it a criminal's getaway van, or the hard-worked tool of a white van man.
Lurid orange, black, and green is not an appropriate colour, we feel. But it has been fitted with a beautiful-sounding V8, and the man behind the wheel makes a fair old fist of hanging the tail out, displaying the sort of skills that many a Guy Ritchie wheelman would be proud of.
So perhaps we'll forgive that paint job. Although the absence of an old red-top tabloid wedged down the front of the dash is an unforgivable omission...