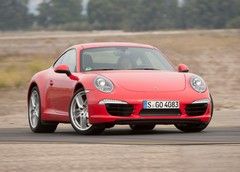 Coming to PH soon - the all-new 911
So, this week we'll be driving the
all-new Porsche 911.
But not until Friday. I'm pretty excited about this - who wouldn't be - and I hope you are too. And to help get us all in the mood we'll be hearing from a selection of
PH Carpoolers running various 911s
and, courtesy of our man Silversixx, considering exactly how much 'proper' Porsche you can get for the price of a Golf GTI.
Porsche is launching the new 911 over in LA so the flight over was an excellent opportunity to really get to grips with the press pack. It's complex enough I've even had to draw a flow chart in my press pack to make sense of the various option combos. And, I must confess, I'm a little worried.
There is an awful lot of technology on this new car. Sure, you'll have got the headlines already - 100mm longer in the wheelbase, part-aluminium construction, electric steering, seven-speed manual gearbox and the rest. But our drive in the GT3 RS 4.0earlier in the year inspired a lot of PH chatter about analogue versus digital cars and there's no escaping the fact Porsche has thrown the gadget toybox at the 991.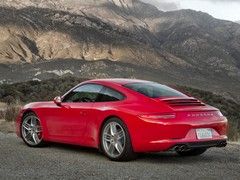 911 got gadgets but has done got soul?
From the suspension to the steering, differential, exhaust, engine mounts, rear wing, brakes and even engine sound it seems there's nothing that escapes a little assistance from the black boxes. I'm really hoping Porsche will lay on an absolute base-spec Carrera 2 with the standard suspension, manual gearbox and bare minimum of options for us to drive too. But I fear most of the test cars are going to be packing an acronym overload and Christmas tree spec that'll make getting to the heart of the new 911 something of a challenge.
Such is the march of technology but when a firm like Porsche has such mastery of the fundamentals of making great cars - Cayman R, GT3 911s and all - that rely less on gadgets and more on expertise and experience it seems a shame to smother all that with an Audi-like obsession with tech for tech's sake.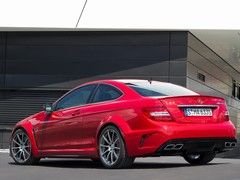 Black Series promises old-school thrills
We'll find out later in the week but the 911 will be an interesting comparison with the Mercedes C63 Coupe Black Series you'll also be reading about shortly. AMG, unlike its German rivals, seems happy to stick with the (relative) basics of a snorting great engine, fixed rate dampers and a great set-up. Very different cars in pretty much every respect, the Black Series and 911 also represent divergent theories on what makes a modern performance car. It is, very much, a fight between new- and old-school.
It'll certainly be interesting to see how the experiences of our 911-owning carpoolers help put the new Porsche in some sort of context too. And if you fancy your 911-shaped thrills minus the computer enhancement we'll have plenty of tempting ways to scratch the itch on the used market.
Stay tuned and, in the meantime, enjoy our post-Rally GB blow-out - from Mk2 Escortsto Chevettes and a breakdown of how Loeb continues to dominateour bobble hats remain very firmly in place!
Dan