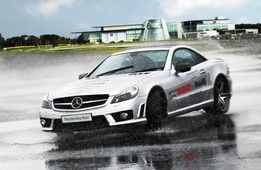 Want to escape from Christmas shopping? Are you avoiding putting up the Christmas tree or simply bored of the usual Sunday mornings? Allow us to help you by gently persuading you to join us at Mercedes-Benz World on Sunday 13th December.
This Sunday Service offers up the usual mix of PHers, their cars and hot breakfasts, but we also have the entire M-B World facility to enjoy (which is handy at this time of year). This time, however, we can also watch a few readers attempt to get an AMG Merc sideways around the wet handling circuit, and a few more of you will be able to win a passenger ride. Hurry to enter, though, as the competitions close tomorrow.
Firstly there's a chance to win one of four passenger rides with the Silver Arrows Display Team, an acrobatic driving display team whose power sliding and pirouetting pushes the power and performance of AMG to the limits. For a chance to experience this from the inside, simply email competitions@pistonheads.com with the subject line 'Silver Arrows'and include your name and contact details.
If slithering around on a 'dab of oppo' really takes your fancy, the M-B World Sunday service is also set to host the inaugural PH Powerslide Challenge, a chance for you to have a bash at your own spot of opposite lockery. To keep things fair, all participants will be using the same AMG Mercedes-Benz and not their own car. To enter, you'll need to drop an email to competitions@pistonheads.com with the subject line 'PH Powerslide Challenge' and tell us why you want to have a go as places are limited. There's only one caveat: this is just for fun, so no pro drifters please!
Good luck with the competitions, and we look forward to seeing you there.
For more details on the event see the main story here
If would like to sign up to attend please do so on the existing forum thread here